Team Babbitt's/Monster Energy/Kawasaki Rider Gavin Faith Captures Back-to-Back Victories
January 13, 2018 | DCU Center | Worcester, Mass.
Foothill Ranch, Calif. (January 14, 2018) – After capturing the 2018 AMA Arenacross season opening victory, Team Babbitt's/Monster Energy/Kawasaki wasted no time jumping out to the early lead at Round 2, as Gavin Faith and Jacob Hayes finished first and second in 250AX Heat 1.
When the gate dropped in the DCU Center for 250AX Main Event 1, it was the reigning champion, Faith on his KX™250F grabbing the holeshot with teammate Hayes in tow. The Kawasaki teammates never faltered and rode a smooth 15-lap race to the checkered flag with Faith finishing in first place and Hayes second.
Main Event 2 was much of the same as Faith grabbed his third holeshot of the night with Hayes right behind him in second place. The two Kawasaki's were on another level from the competition all night as they went on to finish first and second again. Faith would finish 1-1 for the event overall win, while Hayes finished 2-2 for second overall.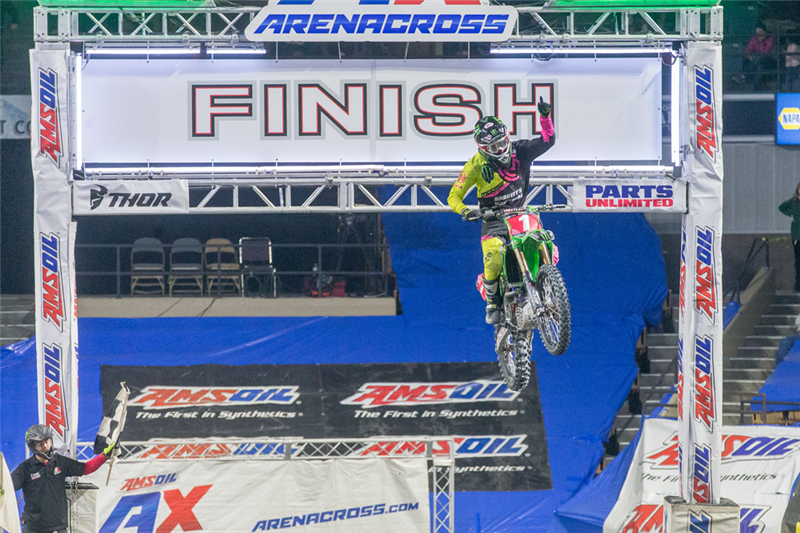 "We had another solid weekend for the team," said Faith. "The night couldn't have gone better for both Jacob and I. We got great starts and finished 1-2 in all three races. I'm looking forward to next weekend."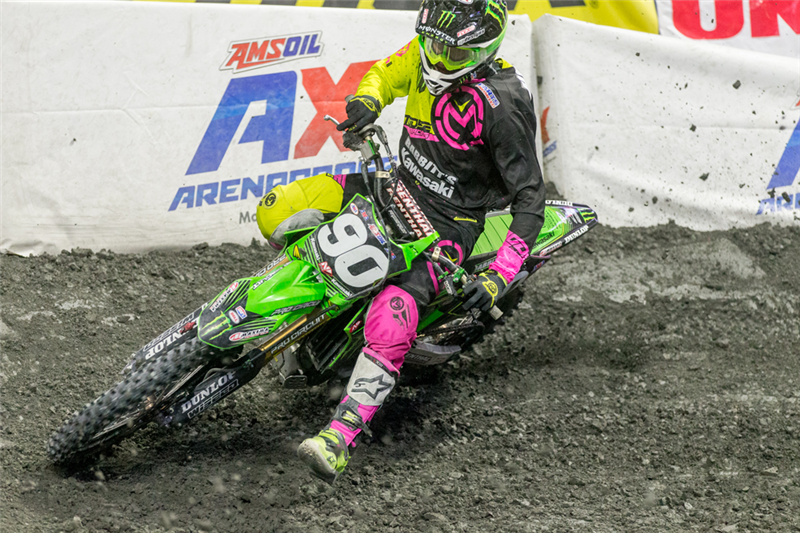 "Tonight felt good," said Hayes. "I felt strong all day and during the night show I got off to three great starts and finished second right behind my teammate. I can't wait to keep the momentum going."
In the 250AX Lites Class, Monster Energy Kawasaki Team Green™ rider Garrett Marchbanks lined up feeling confident after last weekend's victory. After qualifying second from 250AX Lites Heat 1, the gate dropped on the Main Event and Marchbanks came around Turn 1 in seventh place. By Lap 3, he was up to fourth place and continued pushing his way towards the front of the field, eventually overtaking second in the final laps. He would maintain the second place position as the checkered flag waved, resulting in an impressive come-from-behind performance.
"Tonight wasn't easy," said Marchbanks. "I didn't get a great start all night which made tonight difficult, but I'm pumped to have a win and a second place finish after only racing two rounds of Arenacross."