Team Babbitt's/Monster Energy®/Kawasaki Wins Big in Vegas
May 4, 2018 | Orleans Arena | Las Vegas, Nev.
Foothill Ranch, Calif. (May 6, 2018) – Team Babbitt's/Monster Energy®/Kawasaki rider Jacob Hayes raced his KX™250F to a 2-1 finish Friday night to earn the 2018 AMA Arenacross Championship at the Orleans Arena in Las Vegas, Nevada. This was Hayes' tenth win of the season and the eighth Arenacross title in nine years for Team Babbitt's/Monster Energy Kawasaki. GPF Babbitt's Online Kawasaki supported rider, Ryan Breece followed suit to win his second consecutive 250AX Lites West Championship.
Hayes entered the race one point out of the championship lead and 250AX Main Event 1 saw him capture the holeshot and lead the field through the technical Orleans Arena course. He led for eight laps before being passed and sliding back into second place. Hayes would go on to finish second, with Kawasaki riders Travis Sewell in fourth and Gared Steinke in sixth.
Heading into the second 250AX Main Event, all Hayes had to do was start the race and he would become the 2018 250AX Champion, but Hayes wanted to end the best season of his career in dominant fashion. When the gate dropped on Main Event 2, it was the No. 90 KX250F of Hayes capturing his second holeshot of the night. Hayes raced his way to his tenth main event victory and was crowned the 2018 AMA Arenacross Champion. Sewell went on to finish 4-3 for third overall, while Steinke finished 6-13 for ninth.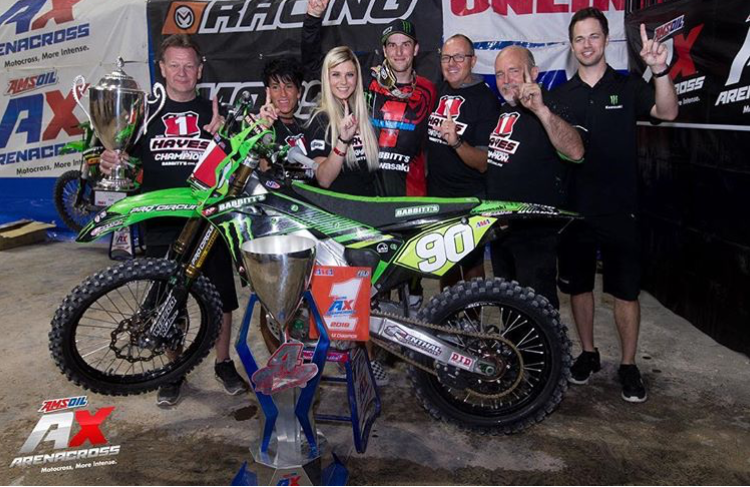 "This is a dream come true," said Hayes. "I've worked so hard for this and I can't thank Team Babbitt's and Kawasaki enough for all their endless support. This feels incredible, I'm speechless."
Despite having a sore ankle from last weekends qualifying crash, Breece was unstoppable in Vegas. Breece raced his GPF Babbitt's Online Kawasaki supported KX250F to a flawless night after qualifying fastest, winning his heat and dominating the AX Lites West Main Event to capture his second consecutive AX Lites West Championship. Teammate Isaac Teasdale raced his way to a third place finish and second overall in the AX Lites East rider points standings.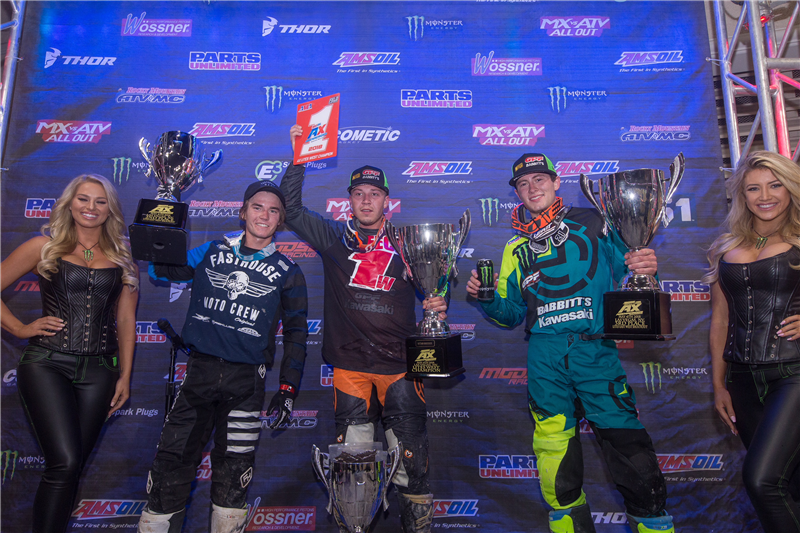 "Wow, what a season," said Breece. "I felt the best I ever have this season and to win these championships back-to-back feels incredible. I want to thank everyone who supported me throughout these last two years, I couldn't have done it without them."
250AX Results
1. Jacob Hayes (2-1)
2. Jacob Williamson (1-2)
2. Travis Sewell (4-3)
7. Steven Mages (10-6)
8. Preston Taylor (7-9)
9. Gared Steinke (6-13)
10. Ryan Breece (9-10)
250AX Race to the Cup Championship Standings
1. Jacob Hayes (167)
2. Chris Blose (135)
3. Travis Sewell (127)
5. Gared Steinke (112)
6. Kyle Bitterman (89)
8. Jacob Williamson (35)
9. Gavin Faith (10)
10. Shane Sewell (4)
AX Lites East/West Showdown Results
1. Ryan Breece
2. Robbie Wageman
3. Isaac Teasdale
6. Mason Kerr
AX Lites West Coast Championship Standings
1. Ryan Breece (94)
3. Carson Brown (76)
2. Kevin Moranz (68)
5. Mason Kerr (38)
10. Preston Taylor (27)
AX Lites East Coast Championship Standings
1. Heath Harrison (99)
2. Isaac Teasdale (96)
3. Garrett Marchbanks (47)